MAKE A MOVE
Make a Move (or Toma el Paso) is a board game that teaches unaccompanied immigrant minors (UIMs) about the release from detention process. The game introduces players to the 3 pathways for release from a juvenile shelter as well as events and actions that could speed up or slow down your approval for release. From 2014-2018, Make a Move was used with UIMs as part of the Immigrant Children's Affirmative Network (ICAN) curriculum, which was managed by the University of Miami's Community & Educational Well-Being Research Center (CEW) at the School of Education & Human Development.
If you are interested in using the game, it is available for purchase at-cost directly from The Game Crafter, a print-on-demand game site with a discount on bulk orders (links below). Or you may print and assemble the free PDF version linked below.
Note: The full game set is available with components in both Spanish and English. If you only want the game set in Spanish, please see links below.
Testimonials
"[Lien Tran] has created a remarkable tool  to help educate these youth and bring joy to their lives at the same time."

– Etiony Aldarondo, Executive Director of Melissa Institute; Founder of ICAN
"It feels like when you're inside [the juvenile facility]. The game definitely feels real."

– Youth who had previously spent time in a facility, after playing Toma el Paso
"A male teenage youth (~ age 16) from Cuba was unable to progress forward in the game until he obtained the necessary paperwork for his fingerprints. Along the way, his [case manager] became 'occupied' with other youth and he was forced to roll to dice multiple times before he could complete this crucial step. At this point in the game, the facilitator checked in with the youth, to which he commented, "This is exactly what is happening to me right now. I am waiting on the results from my fingerprints." Upon further exploration, the youth shared about how he has been waiting for months to hear back about whether he will be able to reunite with his family based on the results. This youth not only demonstrated an extant knowledge of the immigration system, but was also acutely aware of how his situation was much different than that of his housemates. With unmeasurable patience and kindness towards his housemates, he humbly shared his story in such a way that would leave one thinking that he came from a place of privilege; when in all reality he did not." – 2016-17 ICAN Volunteer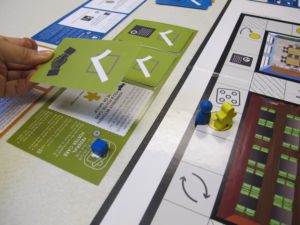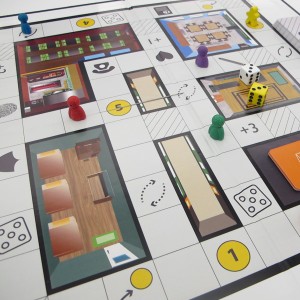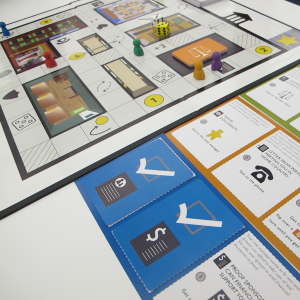 Reflections from students in "U.S. Immigration History and Culture" course at Saint Louis University (Spring 2020):
"[The game] helps to show the process of releasing unaccompanied immigrant minors (UIMs) from detention centers. The main goal for this game is to teach UIMs their different options in order to be released from the detention center in a fun and interesting way, but I think that this could be useful for anyone. I played this game with my mom and little sister. At first, I was apprehensive since my sister is only 8 years old and this game is made for ages 13+ but even she learned a lot from the game and really enjoyed it. Since my sister is younger, we played the "beginner" version of the game (shown in the instructional video) instead of the "advanced" version. This is just taking out the chance cards from the game since I was worried that may be too confusing for my sister. This game shows the different options that a UIM has in order to be released from the detention center. It also shows that the process for being released is a complicated process. I also liked the detail of the case worker moving around and that the process for release can speed up if you meet with them more often. This helps show the players that in the real life, your case worker won't be as available as you would like but it is also important to communicate with them. When playing the game, there were setbacks and many obstacles that caused my family and I to get really frustrated but since we wanted to win, we kept playing. This led to a discussion with my family about how UIMs go through these situations in real life and they need to keep going in order for them to get out of the detention center. I find this game so important and helpful for anyone so they can learn about this process."
"Before I played the game, I was expecting it to be kind of boring and sad, however, it was actually very entertaining and the right amount of informative! The game does a really good job of outlining the different options these youth have and the steps necessary to complete them. I also liked how the challenging aspects of the game were synonymous to the challenges they would face in real life while trying to get released, such as the case worker constantly "moving" and having other responsibilities, and the setbacks when trying to find a lawyer. In relation to bureaucracy, this game is a strong educational tool in understanding how inconsistent or unreliable the government can be in the case of each individual. The game challenges can be used to teach patience while also giving the detained youth some insight as to what to actually expect. Unfortunately, legal processing is not a simple or smooth path, and I think Toma el Paso does a great job at teaching that. When I played, I found it to be extremely satisfying and rewarding each time I earned another card from the case worker, and I liked the organized manner in which the game teaches each step of the different processes. My siblings and I all chose to explore a different release option, like the kids in the instruction video. I wanted to see how each scenario played out and if one option seemed better than another. I do however understand that each case is unique and there isn't a "one size fits all" option that is best for everyone."
"I think one thing this game highlighted for me at least was that children have to make these decisions as well, not just adults. I think that there should be more support for immigrants in the first place but especially for children. I can only imagine the amount of pressure and responsibility put on these children in order to go through this process…. Playing this game was frustrating and confusing for me, so I can only imagine the stress and pressure children would be under when having to make these decisions for themselves."
"I found myself immersed in this game and wanted to play out every option until I had seen it all. This game does a great job of teaching about the three different paths that children have when sent to an immigration center: reunification, voluntary departure, and Federal foster care. Each path you choose requires different prerequisites to attain that card, you must have lawyers to represent you and certain documents to prove where you may be going and so on. The whole process of immigration bureaucracy is slow and time consuming, it can be a very long and drawn out process as any event in relation to the court system can be. Additionally, the board game does not make you a 'winner' at first chance, just like in the real world, you will face obstacles and challenges that will stop you from reaching your desired path. For some people, the game might go extremely smooth and have an easy time navigating the playing field, but others will most likely have to jump through a lot of hoops to win. This is an accurate representation of the real world because there will always be people who have it easier than you or better off than you, but that never means you should stop chasing your goals. On top of that, there are times when the game might end up sending you backwards to gather a new document and additional steps just like in real life. The game reminded me of a phrase that I say to myself in times of patience, and how that you might need to take 2 steps backwards to get 10 steps ahead."
"While the game certainly was difficult when thinking about it in the context of people's lives, we all ended up enjoying the educational experience and walked away having had a great conversation about what the reality of being a detained immigrant must be like. One of the things that struck me the most about this game was how everything seemed to constantly be shifting as the case manager moved every time someone reached them. When adding chance cards, some of which have negative consequences that lengthen the route to your pathway out of the shelter, and even lawyer cards for those on the voluntary departure route which also don't always go to plan, the game really comes to life. I think Tran's decision to include these aspects work well in illustrating that an already complicated path can be complicated even more by life getting in the way, especially when considering children are having to juggle contacts with all of these different people to get the materials they require for their route out of the shelter. It definitely seemed daunting even in game form, so I can only imagine how daunting meeting with all of these people and having to keep long, foreign documents organized must feel. Despite how daunting it can feel the first few plays, I believe this is a really important game that can show children in a light-hearted sense what they need to do to be successful in moving on."
"I think the idea of making a game to show detainees the process is a really smart and innovative way to show some of the rules and option they have. Those options being Voluntary Departure, Federal Foster Care, and Reunification. I'm sure when someone is in a situation when they are detained, they must have a lot on their mind and so it may be hard to see clearly what options they have, but if they play a game and are going step by step through some of the options, I think it's much easier for them to comprehend. The game is similar to a simulation of a detainee process… [the game] demonstrates that they are not just being jailed and sent back automatically to their native country, but there is a whole process with lawyers, fosters, etc."